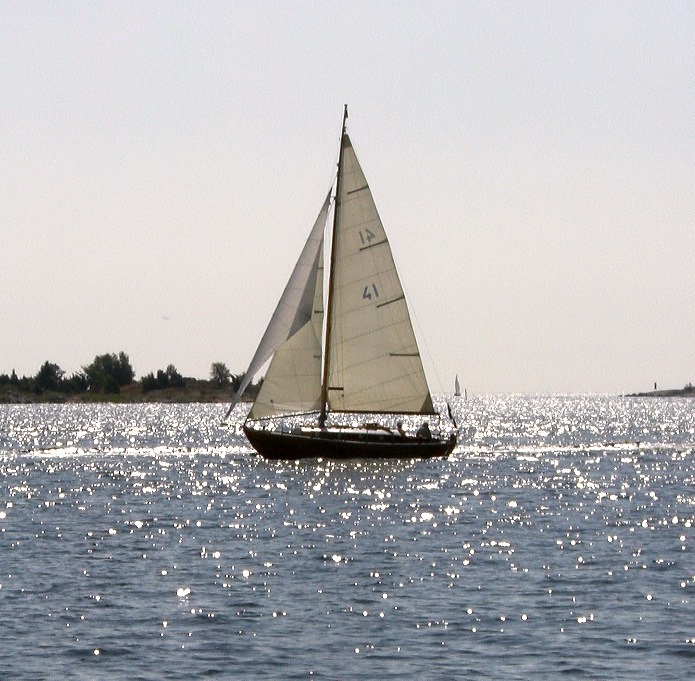 S/Y Monsun
(Klicka här för beskrivning på svenska)
Built 1939, Saltö shipyard, Karlskrona. Design by famous Tore Herlin.
Hull: Clinker-built, oak on oak with copper rivets.
Cockpit in mahogany, interior in oak.
Loa 7.9 m + bowsprit, width 2.4m, depth 1.3m.
Weight aprox. 4 tons incl. keel 1.5 tons. Stainless steel keelbolts.
Deck and cabinroof plastic-coated. Bowsprit.
Engine: Albin O21, 2 cylinder, petrol, adjustable propeller.
Swetwater cooling, electric bilge-pump + manual, petroltank 20 l in copper.

Interior: Stove with oven, LP gas. Sink with electric pump and outlet.
Navigation table, VHF + normal radio, light with separate battery and sun-cell.
Standing
Rigging: Stainless-steel, wires, fittings, shroudscreews and all.
New mast, spruce and epoxy, main-boom and jib-boom.
Sails: Top-genoa, flying-jib, storm-jib, normal jib on boom, 2 main-sails.

An extremely pleasing boat, in excellent condition, with a special historic dimension.
Good sailor, can take a lot of wind and sea.
A dry boat.
Her present harbour is Karlshamn, in the south of Sweden.
Staffan G-son Lind, Gässemåla, 360 10 RYD, Sweden.
+46-(0)459-80672, +46-(0)70-5380672, tilolind@swipnet.se